Fall Home Maintenance Checklist
It can seem as though there is always something that needs doing in your home. There is always a bit of maintenance that your home could use, depending on the season, the age and condition of your home and when you've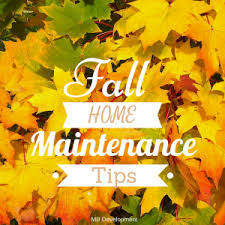 done previous maintenance. Nonetheless, there is always some seasonal maintenance to be taken care of. In the fall, that means getting ready for the winter and harsher weather conditions that come with it. Below, is a checklist that will help you get your home ready for the coming winter months.
• Clean/Clear out your gutters. Make sure they are damage free, repairing any damage that you may find.
• Have any chimneys cleaned out and properly maintained by a professional cleaner.
• Survey electrical outlets, making sure they are all secure, without any loose plugs. Continue to assure that outlets are not overloaded.
• Check over your smoke detectors, making sure they are in working form. Make sure there is a smoke detector at least on every floor.
• Inspect your dryer's exhaust pipe and double check that it is cleaned out. Any materials that accumulate in the dryer or the exhaust pipe could be a fire hazard.
• Insulate any water pipes in your house to help avoid frozen pipes when the temperatures drop.
• Replace caulking around windows and doors that may be deteriorating.
Donahue-Stangle-Brown Insurance Agency is an independent insurance agency that represents numerous insurance companies and has served all of Ohio since 1948. With DSB Insurance you get quotes that are quick, easy and affordable while we compare prices with numerous insurance companies to give you be best coverage at the best price point.  We offer a wide range of insurance products from auto insurance, home insurance, farm insurance, motorcycle insurance, RV Insurance, Boat Insurance, business insurance, business auto insurance, trucking, life insurance, disability and annuities. Please contact one of our professionals today at 740-998-5544 in Frankfort or 740-656-5119 in Chillicothe. You are also welcome to contact us via EMAIL.