The Donahue-Stangle-Brown Insurance Agency is an independent agency that writes all lines of insurance including, but not limited to auto, home, farm, business, life and annuities in Chillicothe, Ohio and surrounding areas.
We are members of the Ohio Insurance Agents Association (OIA) and the Chillicothe Ross Chamber of Commerce. We have the most professional and knowledgeable staff with a family-oriented environment.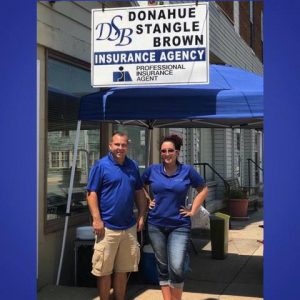 David and Debbie Brown owned and operated the Donahue-Stangle-Brown Insurance Agency since 1979. David has been a licensed agent since 1977 and began his career as a producer with an agency in Wilmington, Ohio. In September 1979, they purchased the Donahue Agency from Mack Donahue and moved to Ross County from Blanchester, Ohio. They moved to the Chillicothe area in 1983 where they raised their two children, Jason and Julie, who are now co-owners of the insurance agency.
In 1993, David and Debbie acquired the Stangle Agency in Chillicothe. This agency was formerly the Carl M. Lee Insurance Agency. Mr. Lee founded the agency in the early 1950's and it was located in the Lee's home just outside of Chillicothe. Both Mr. and Mrs. Lee were licensed agents. In the early 1970's, they sold the agency to James Stangle. In 1995, David and Debbie merged the Donahue-Brown Agency and the Stangle Agency to 20 N Main St., Frankfort, Ohio.
In 1996, David and Debbie purchased the Cope Insurance Agency located in Greenfield, Ohio from Mark Cope. The Cope Insurance Agency was appointed with Grange on August 1st, 1948.
In January 2016, David and Debbie Brown turned over management to Jason D. Brown, CIC and Julie Winters, CISR. Debbie was still involved with our bookkeeping and David was semi-retired. In July 2016, Jason and Julie merged the Cope Insurance Agency in Greenfield with Donahue-Stangle-Brown Insurance at the Chillicothe location.  In 2019, Jason and Julie became co-owners and shortened the business name to DSB Insurance Agency, LLC
Why do business with DSB Insurance Agency?
Unlike a captive, or direct insurance company who only offers their own proprietary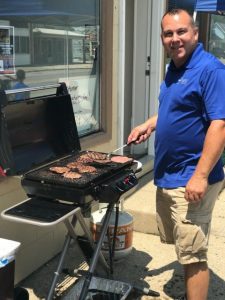 products, our agency is 100% independent of any one company. Many insurance consumers don't fully understand just how important that really is.
When it comes to something as important as insurance, it's imperative that you work with an agency who has an in-depth knowledge of multiple insurance products, companies, and guidelines — not just one.
At the end of the day, what separates one agent from another, is their ability to proactively service their policy holders, and their knowledge of the insurance industry, products, and different situations that may present themselves to their clients.
Independent Agent Vs. The Rest
Here is a quick comparison of the differences between an independent agency like us, and the various other types of companies that are out there: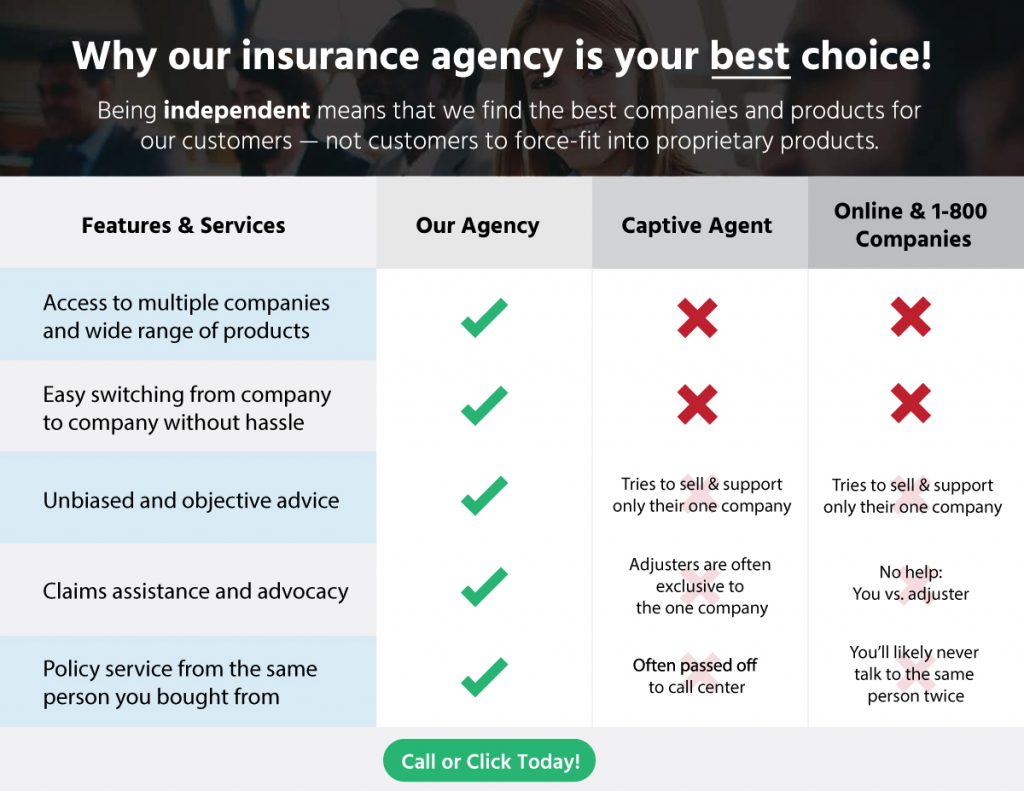 If you'd like to get started with a complimentary quote and/or policy review, we'd be happy to help you any way we can. Simply complete the fields below to get started online in a matter of seconds.
We appreciate the opportunity to help you, and look forward to servicing your insurance needs! Feel free to call us directly if you have more detailed questions.